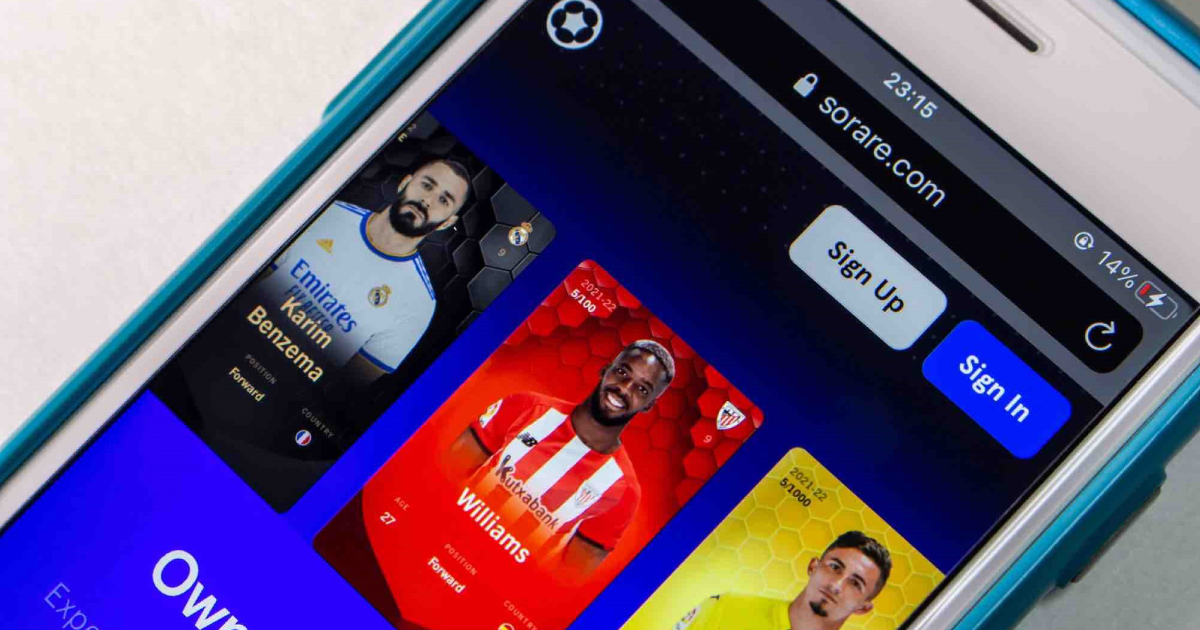 10 most popular NFT projects in the Football Industry
It is a fact that many football clubs, leagues or sports competitions are revolutionising their approach to fan interaction thanks to NFTs.
The aim of these digital assets is to increase the engagement between the sport entity and its supporters, by creating a virtually unlimited range of products: from the official jersey to the football players stickers or the stadium, everything can be turned into Non-Fungible Token.  Moreover, these products grant an exclusive ownership in a specific entity, which is represented by the fan.
Therefore, fans can own NFTs by purchasing or collecting video moments, collectibles and specially created tokens.
As well as having a value, the ownership of NFTs – most often commensurate with cryptocurrency –  allows fans to participate in major decisions made by football clubs.
As mentioned in Geekflare, Crawley Town Football Club has recently signed a football player based on the votes of the NFT supporters of the English League Two club. Barcelona has launched its first NFT collection and many other top clubs have jumped into this new market.
Here are some of the most popular NFT projects in the Football Industry.
Sorare – NFTs revolutionised the purpose of Sorare, a French platform that created a fantasy game centred on football, where the player can buy, trade or collect NFT cards of footballers and participate in various online tournaments. Erling Haaland's card was the most expensive NFT on Sorare with its EUR 600,000, beating the record of EUR 400,000 held by Cristiano Ronaldo's NFT card.
Socios.com is an online platform developed for football fans. Thanks to this platform, fans are entlited to exercise control with important decisions for club strategies. Thanks to numerous partnerships signed worldwide with clubs, leagues and competitions, Socios owns a very wide portfolio of football players.
LaLiga and Dapper Labs – Dapper Labs collaborated with LaLiga to create the official collectible highlights in NFT, which consist on iconic game moments of the Spanish league over the past 20 seasons. The value of a particular NFT varies according to its demand and rarity.
Fanz is a football platform based on blockchain technology and dedicated to fans. The platform aims to connect fan culture with blockchain, whose main aspect is the innovative concept named 'Football in Web 3.0'. Users are provided with a gateway for games, governance and NFT.
Topps NFT – Topps is an American company that produces licensed football stickers. Through NFTs, it has jumped into this new online market for licensed football collectibles, entering the Web3 world with a series of official Bundesliga NFTs, including a multi-year partnership with the German league.
Shirtum is a platform that allows fans to purchase official NFTs directly from football teams or footballers. Some of the highlighted collaborations available on the platform include Galatasaray and the legendary Ronaldinho.
Football AIFA is a decentralised gaming platform that produces, builds and sells AI robots thanks to NFT. AIFA stands for Artificial Intelligence Football Association. The game was created using Altered State Machine (ASM) to enhance the presence of football in the metaverse with NFT technology. Players can compete with potential opponents to earn NFT tokens and other rewards. The ASTO token is the in-game token which can be used in the ASM game ecosystem.
Fanzone – trading cards have a huge market worldwide, Fanzone is an online platform that facilitates fans to trade, buy and collect digital trading cards. The platform runs on Polygon (Ethereum's Level 2 scaling solution) and LUKSO (a domain-specific blockchain).
Fantestec SWAP is another platform for football fans that gives the opportunity to trade, collect, buy and sell NFT collectibles. The collector's items concern iconic moments of major European football teams such as Real Madrid, Arsenal and Borussia Dortmund.
Real Fevr – Based on the BNB Smart Chain, RealFevr allows users to acquire various NFTs based on football, digital highlights of the performances of many footballers, by purchasing collectible NFT videos from the RealFevr marketplace. FEVR is the platform's utility token that can be used to purchase NFTs.